NOISE and FURY 2014
June 8th, 2014 by olkor received
Comments Off

on NOISE and FURY 2014

The 13th annual festival of experimental music and sound art "Noise and Fury" will take place at The DOM Cultural Center in Moscow, on the 19-20th of June. This festival is one of the oldest and most well known event among fans of experimental, electronic, free improvised, noise, ambient music not only in Russia, but also abroad. Many different musicians, projects and bands from different countries performed at "Noise and Fury" festival. It always gives an opportunity to Russian musicians and sound-artists to collaborate with their foreign colleagues, to exchange experiences, ideas and approaches to contemporary experimental, vanguard music and art.
Among the participants of "Noise and Fury" are such well known and respectable sound and multimedia artists, musicians as Pan sonic (Finland), Thomas Ankersmit (Netherlands) , Giuseppe Ielasi (Italy), Alessandro Bosetti (Italy), Franz Pomassl (Austria), Jandek (USA), Sindre Bjerga (Norway), Edgars Rubenis (Latvia), ZGA (Russia), Figs (Russia), Sergei Letov (Russia), Klaus Filip (Austria), Jean-Luc Guionnet (France), PalSecam (Poland), Robert Piotrowicz (Poland), Miguel A. Garcia (Spain), Xavier Lopez (France), Kiwanoid (Estonia), Mats Lindstrom (Sweden), Cisfinitum (Russia), Stropharia (Russia), Stanislav Kreichi (Russia), Patrik K.-H. (Russia) and many more.
Noise and Fury 2014 is planning to represent musicians from Norway, Belgium, Italy, Latvia, Russia.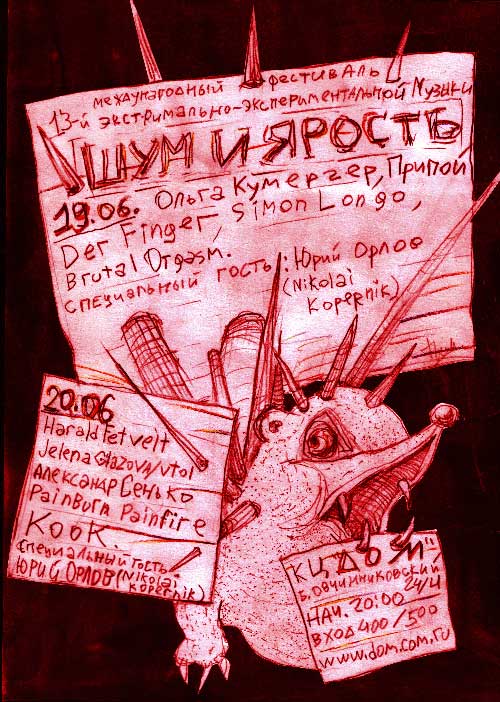 13й международный фестиваль экстремально-экспериментальной музыки "Шум и Ярость" по традиции пройдет в москвском культурном цетнре "ДОМ", 19 и 20 июня. Стартовав в 2001 году по инициативе основателя "ДОМа" Николая Дмитриева и московского музыканта Евгения Вороновского, "Шум и Ярость" превратился в уважаемый международный фестиваль, в котором принимают участие музыканты, саунд-артисты, перформеры и видео-художники из разных стран, представители разных поколений, школ и направлений современного авангарда. В разные годы участниками фестиваля были: Pan sonic (Finland), Thomas Ankersmit (Netherlands), Giuseppe Ielasi (Italy), Alessandro Bosetti (Italy), Franz Pomassl (Austria), Jandek (USA), Sindre Bjerga (Norway), Edgars Rubenis (Latvia), ZGA (Россия), Figs (Россия), Сергей Летов (Россия), Klaus Filip (Austria), Jean-Luc Guionnet (France), PalSecam (Poland), Robert Piotrowicz (Poland), Mats Lindstrom (Sweden), Cisfinitum (Россия), Stropharia (Россия), Пограничное состояние (Россия), Бром (Россия), Kotra (Украина), Андрей Кириченко (Украина), Елена Глазова (Латвия), ПМП (Россия), Рада Анчевская (Россия), Владимир Терех (Россия), Kurt Liedwart (Россия) и многие другие. В этом году ожидается участие проектов из России, Норвегии, Италии, Бельгии, Латвии.
На фестивале будет представлена различная аудио-визуальная продукция (cds, vinyl, cassettes, books, posters), так же посетители концертов смогут пообщаться с их участниками в неформальной обстановке, задать вопросы и получить автографы……
19 июня (четверг)
Ольга Кумегер (Россия)
Der Finger (Россия)
Simon Longo (Italy)
Припой (Россия)
Brutal Orgasme (Belgium)
20 июня (пятница)
Harald Fetveit (Norway)
Kook (Norway)
Jelena Glazova/Vtol (Latvia/Россия)
Александр Сенько (Россия)
Painburn Painfire (Italy)
Юрий Орлов (Россия)
начало в 20.00
вход: 500 (400) рублей
КЦ "ДОМ" (Москва, Большой овчинниковский переулок, 24/4)
more info:
www.dom.com.ru
www.simonlongo.com
www.dithernoise.net
www.kook.no
www.haraldfetveit.no
https://www.facebook.com/bruital
Tags: NOISE AND FURY, ШУМ И ЯРОСТЬ
Posted under:
Shum Info In Russian / Шум Инфо по-русски