LONKTAAR new releases – december 2012
December 1st, 2012 by olkor received
Comments Off

on LONKTAAR new releases – december 2012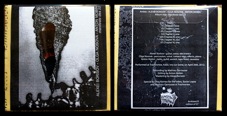 lonktaar23
ALEXEI BORISOV / OLGA NOSOVA / ANTON MOBIN
manifest des 22   CDR
Collaboration recorded live in Ivry-sur-Seine / April 2012.
The duo Borisov / Nosova, also known as Astma, collides
with the concrete music of parisienne Anton Mobin, achieving a new status !
Music for sorcerers with Parkinson's disease, suffocating slowness…
Edition of 37 copies – cd inserts packaged using pseudo-psych paper of old sewing magazines!
more infos:
http://lonktaar.blogspot.it/
http://flgllm.blogspot.it/
http://bittekw.blogspot.it/
Tags: Alexei Borisov, Anton Mobin, Olga Nosova
Posted under:
Shum Info in other languages / Шум Инфо не по-русски