ASTMA French Tour 2011
October 27th, 2011 by olkor received
Comments Off

on ASTMA French Tour 2011
NoVEmBREUUXX 2011
Merc 9 //// CAeN = Le PréAU %%%
JeUd 10 /// ReNNEs = BuRIaLheX +++ MaTHiAS PonTeVIA
VenD 11 /// FeLLeTIN = EsPaCE ThiboRD ++ L PeAU & Les OS
SaM 12 /// MarSEille = L'aTeLIER +++ Yann Leguay & mitsuaki matsumoto
LuN 14 /// BorDEaUX = NovO LOcAL +++ le Cercle des Mallissimalistes
MarDI 15 //// AnGOulèME = ReGIS TUrNER
.
.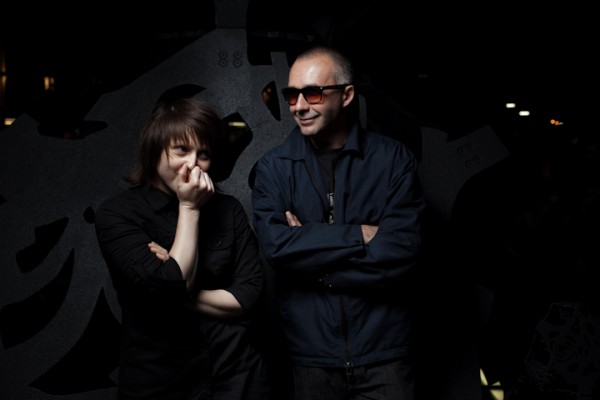 ASTMA (Alexei Borisov and Olga Nosova)
Borisov/Nosova duo was formed in Moscow (RF), april 2009. Music components: free improvised, live electronics, electroacoustic, spoken word, tape music, ambient, soundtracks, field recordings, techno, sound art etc. The duo collaborates with different musicians, sound artists, video-artists, dancers and poets from different countries, produces music for silent movies ("The 11th" and "Enthusiasm" by Dziga Vertov), art exhibitions, theatrical and multi-media events and actions, DJing.
International events and festivals: Spektro Fest (Istanbul, Turkey 2009), Jauna Muzika (Vilnius, Lithuania 2010), Sonic Circuits (Washington DC, USA 2010), Interpretations (NYC, USA 2010), Sonic   Protest (Paris 2011), The Morning Line (Vienna 2011), Moozak fest. (Vienna 2011), The 4th Moscow Biennale (2011), live at Staalplaat record shop in Berlin, concerts in Ljubljana, Amsterdam, Tel Aviv, Hannover, Prague, Riga, Tallinn, Helsinki, Napoli, Dusseldorf, Providence, Richmond and more… Showcases and lectures at Berkley Music Collage (Boston), George Washington University (Washington DC)
Digital-albums (selected): "Istanbul Kebap" (Live at Spektro 2009) (net-album by www.top-40.org) "No No Music" (net-album by www.kroogi.com – 2010), "There will be a McDonald's" (Zeromoon.com).
CD-R releases by Bornos produkt: "Selected works, vol. 1" (2009), "Grundig" (2010), "There will be a McDonald's" (2011), "Live in Richmond" (BUH Records, Peru 2011)
CDs: "Elektrokooperativ" (Industrial Culture, UK 2010), ASTMA "Dar-k" (Letmo, Czech republic 2011) ..
ASTMA – Perfomed live at the Maizing Studio – Paris on November 17th, 2011.
Astma & Anton Mobin | Russia, France
Perfomed live at the Maizing Studio – Paris on November 17th, 2011.
www.myspace.com/borisovnosova
www.myspace.com/asstma
www.shum.info
Tags: Alexei Borisov, Astma, Olga Nosova
Posted under:
Shum Info in other languages / Шум Инфо не по-русски