The Awards Ceremony of Qwartz 7th edition
April 14th, 2011 by olkor received
Comments Off

on The Awards Ceremony of Qwartz 7th edition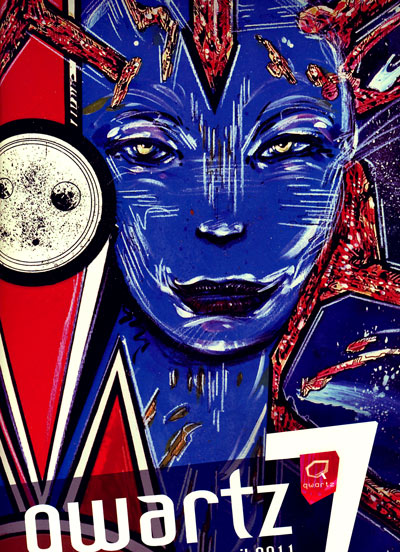 .
Вот так, на завершившемся в Париже фестивале электронной музыки "Qwartz" были распределены победные призы (отметим очень удачное участие украинского лейбла Kvitnu!):
.
QWARTZ 7 PRIZE-LIST
The Awards Ceremony of Qwartz 7th edition happened on Friday, April 1, in Le Trianon (Paris). The 14 prizes have rewarded talents of new and electronic music, graphic-design, new media arts and technological innovation.
QWARTZ ALBUM – Doll Divider by Olivia Louvel [France] – Optical Sound [France]
Endowment by SACD (1 500€)
QWARTZ EXPERIMENTATION/RESEARCH Antichamber by Yannis Kyriakides [Cyprus] – Unsounds [Netherlands]
Endowment by GRM (2 weeks residency in GRM's studio)
QWARTZ DISCOVERY – Peste by Sturqen [Portugal] – Kvitnu [Ukraine]QWARTZ COMPILATION – A Man & A Machine 2 by Le Son du Maquis [France]
Endowment by SACEM (2 000€)/TRAX
QWARTZ TRACK – Fine Mouche by Khan (feat. Brigitte Fontaine) [Germany] – I'm a single Records [Germany]
Endowment by QWARTZ (800€)
QWARTZ DANCEFLOOR – The Beat of the Heart by Daniel Meteo [Germany] in Working Class – Shitkatapult [Germany]
Endowment by QWARTZ (800€)
QWARTZ ARTWORK/PACKAGING – Loafnest (Andrew Lange + Michael S. Carlson) [United States] for Fever Dream by MAPQWARTZ ARTIST – Sturqen [Portugal]
Endowment by SAIF (1 500€)
QWARTZ LABEL – Kvitnu [Ukraine]
QWARTZ NEW MEDIA ARTS – Dust by Herman Kolgen [Canada] / Special Mention to Deshérence by ANTIVJ [France]QWARTZ D'HONNEUR – Matthew Herbert [United Kingdom] QWARTZ PIERRE SCHAEFFER – Eliane Radigue [France]
Endowments by QWARTZ (1 000€/ 500€)
QWARTZ MAX MATTHEWS – Harpe MIDI Camac [France]
QWARTZ SPECIAL – Christine Groult by KM Pantin [France]
The prize-winners have been selected according to the juries' votes exclusively – with the exception of honorific prices.
Every prize-winner has been offered the GRM Tools as well.
.
Thanks to the Jury for his work:
– Music Jury presided by matali crasset : Alexis Alyskewicz & Aurore Menu, Gilles Berquet, Yannick Blay, Mïrka Lugosi, Frédéric Malki, Eric Mattson, Thomas Meinecke, Erik Minkkinen, Edouard Rostand, Didier Varrod, Christine Webster.
– New Media Arts Jury presided by Pierre Cornette de Saint-Cyr : Gilles Alvarez, Charles Carcopino, Régine Debatty, Benoît Guérinault, Anne Roquigny, Gerfried Stocker, Alain Thibaut.
.
Шум Инфо с широко открытыми ушами и не только…
.
Tags: Electronic Music in Russia, Шум
Posted under:
Shum Info in other languages / Шум Инфо не по-русски