Rafiev – Borisov: Znamenie presvyatoj bogorodicy
July 29th, 2009 by admin received
Comments Off

on Rafiev – Borisov: Znamenie presvyatoj bogorodicy
Алексей Рафиев и Алексей Борисов Знамение Пресвятой Богородицы.
Wednesday, July 29, 2009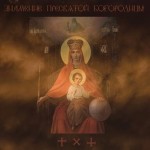 For all of those people who have closely been involving in Russian underground music, the name of Alexei Borisov is probably not the unknown one. The legendary musician, who started already at the beginning of 80s and whom with Peterburg legend late Sergey Kuryokhin are being considered as the pioneers of the Russian electronic music scene. He has played in the lineups of groups such as The Center, Notchnoi Prospect, F.R.U.I.T.S, and more recently Gosplan Trio and Volga. The list of his collaboration projects and performing at famous and influential electronic music festivals could go much longer and longer. Travelling through many styles (new wave, big-beat, industrial rock), and as a solo artist on the other hand his music has been more focused on the intense sound area – delving into minimal electronica, noise music, electroacoustic music, and industrial music in nowhere man land in a far corner somewhere.
Tags: Alexei Rafiev, F.R.U.I.T.S, Gosplan Trio, Notchnoi Prospect, Russian underground, Sergey Kuryokhin, The Center, Volga
Posted under:
Shum Info in other languages / Шум Инфо не по-русски